Dear Mother Earth: Letters to the Planet is an environmental oratorio that celebrates the common environmental hopes of children around the world.  Children in Ghana, Nicaragua, Vietnam, Italy, and many other countries have joined their peers in Middletown, Connecticut, to write letters to the Earth.  These student writings include gentle observations of the planet's beauty, gratitude for all the Earth gives them, apologies for mistreatment of the earth and pledges to make their part of the world clean and free of pollution.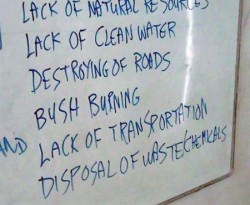 The music in this piece is driven by a process of translating scientific data into melodic content.  Research conducted by Wesleyan University faculty and students on a local river created large sets of data.  With the help of Wesleyan Math faculty, I created a variety of translation protocols that gave birth to the melodies and the recurring themes of this large work.  Each of these melodies is framed with an arrangement that references a world music culture.  In this way, local data is presented with the musical voices of many countries.
This musical work has been inspired by the mathematical field of "Complexity." This mathematical process attempts to uncover how large groups of individuals move together without centralized leadership.  Just as large flocks of birds turn and pivot with common purpose, we have seen that children around the world share the same passion and commitment to solving the environmental challenges that face our world.  Regardless of their differences in language, faith, politics and culture, these children saw the same beauty in their parts of the world.  They saw many of the same needs and shared many of the same fears for the future.  This piece provides an artistic exploration of the complex forces that shape our individual actions and our global policies toward the Earth.